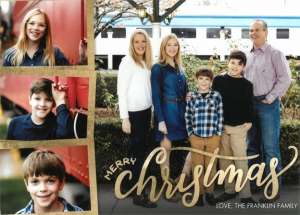 Christmas for our kids has changed a little bit over the years.  It's still time to decorate the house and the tree, eat lots of cookies & sweets and spend time with loved ones.  We are enjoying seeing them grow up, but we don't want it to be too quickly.  We still want to cherish these times and enjoy seeing them experience new wonders and continue learning.
I still relish the wonder our kids feel on Christmas morning.  We have a few surprises planned which we believe will excite them.   Last year I had everyone embark on a treasure hunt throughout the house looking for all the parts of my present to Jennifer.  We have something similar planned for Jack this year.
Walker, our youngest, still believes in Santa Claus.  The other two figured out who was really behind getting the elves into mischief and who was behind giving the presents a couple of years ago.   Now Sydney and Jack get to help us place the elves and come up with creative ways for them to provide wonder for our youngest.  He still gets up early to see what they have gotten into or what they may have brought.  We just have to keep the kittens from going after the elves and getting into too much mischief themselves. 
Sydney is now twelve and has decided she enjoys dance possibly even more than acting.  She performed in the 'Nooga Nutcracker at the Memorial Auditorium this year and we were impressed with her expressiveness possibly even more than her dancing.  The transition to middle school is never easy, having to make new friends and be in a new environment, but she seems to have adapted well now that she is in seventh grade.  It won't be long until she is taller than her mother as well.
Jack has lately been looking at where he wants to attend middle school.  I was a little worried at first because he didn't want to consider McCallie because he thought most of his friends were going to stay at Normal Park or go to another school.  To date he has visited and attended several events for McCallie this fall and remembered all the fun he had at camps.  The real selling point for him was when we were able to visit the Walker Science building during the McCallie / GPS tailgate a few weeks back.  We made it to the second level to see what we could of the Innovation Lab and the director of the lab just happened to be there.  Jack was in heaven with the 3D printers, robots, virtual reality rigs and everything else he had to show us.  It isn't often that Jack is at a loss for words.  He was speechless for a few minutes when we were touring, but that is all he could talk about on the way home.
We started Jack at Mathnasium to help him prepare for the SSAT and brush up on his test taking skills.  Like many boys his age, he tends to rush through things and not check his work as thoroughly as he should.  Walker decided to go with him because he thought it would be FUN.  Even though Walker is just in second grade, Walker is starting to embark on fourth grade Math concepts there.  Even when Walker was only in Kindergarden, we had to be careful with him around Sydney when he would start to answer her math questions.  He loves playing games as much as he can and building things with Legos.  It's never hard to figure out what he will like.  If it involves games or Legos as well as superheroes, we've hit the jackpot.   I'm also enjoying coaching him in basketball this Winter.
Our kids still enjoy going on trips with us and hopefully this will never change.  This year we visited New England in the late Summer.  I was surprised that Sydney commented she enjoyed Boston even more than New York.  Jack enjoyed the Duck Tours more than most anything else and commented, "I didn't know that learning could be so much fun."  He especially enjoyed our tour guides accent and immediately wanted to buy himself a "Wicked Smaht" shirt.  I enjoy taking them on these "Learning Expeditions" where they can experience new things, pick up a little history and build lasting memories.
This season we want to impress upon our children the joy of giving.  We get to experience all the joy that comes from seeing that you have been able to brighten someone's day.  We also want to impress upon them the true meaning of Christmas.  Many years ago, a great sacrifice was made so that those who accept the gift can enjoy the most beautiful present we could ever desire.  Likewise, we make smaller sacrifices for our family, friends and other loved ones so they can enjoy our gifts. 
We think of you as our extended family.  Whether we've known each other for two or over twenty years, we always want to maintain that closeness.   We want to let you know that we cherish your membership in the Franklin family and wish you a Merry Christmas and all the best for the new year.
With Warm Thoughts,
Joe & Jennifer