Low Expectations for Tennessee Last Year

For over a decade I had been referring to myself as a "long-suffering" Volunteers fan.  Like most of us, I felt sad when the University of Tennessee fired Phil Fulmer after the 2008 season.  He had been extremely loyal to the school and the program, and I didn't feel he was treated well during that entire process.  Lane Kiffin looked to be something new and exciting, but even at the time of his hiring, the thought process was that his character was lacking.  Fans seemed to be willing to tolerate this if we got the wins.  Tennessee fans paid the price for not considering character in a new coach when Mr. Kiffin skipped town in the middle of the night for "greener pastures".

The football program was in shambles for quite a while after this with a carousel of new head coaches over the last fifteen years.  I must admit that I had very low expectations for Josh Heupel when he became our new head coach last year.  We had just suffered losing records and only one bowl appearance in three of the last four years.  If we could just achieve a winning record again, I felt we'd be on the right track. This was probably a benefit to him as it is very easy to please a fan base and keep players motivated when they can easily exceed these expectations.
Renewed Enthusiasm

The 2021 season was not a spectacular season, but players and fans were able to see a light at the end of the tunnel.  Players were able to see themselves as winners again and be enthusiastic about making steady improvements.  The Music City bowl was not a prestigious bowl to qualify for and we lost the game, but players and fans were starting to believe in the program once again.
A Few Key Pieces
Many people may not remember that Hendon Hooker didn't start right away when he transferred to Tennessee from Virginia Tech.  During the last half of the 2021 season, he was definitely impressive, setting single-season program records for completion percentage (68.0%) and passer rating (181.41) while starting 11 of 13 games and leading the SEC in quarterback passer rating.  Cedric Tillman also broke out as a top wide receiver in 2021, but it was not until this year that Jalin Hyatt became a household name.  We were all mesmerized when Hyatt broke receiving records with over 200 yards receiving and 5 touchdowns on Saturday.
Tennessee has been able to show improvement on the recruiting front over the last year and these "future stars" seem to be making an impact now.  It's the continued improvement of players with potential who break out to become stars with development and hard work which makes the difference.
Keeping a Level Head
Hopefully our Tennessee players will enjoy their win but not celebrate too much.  Too often those who get complacent get sloppy and can easily fall.  Tennessee still has over half the season ahead of them.  It's been a good start, but this is a marathon, not a sprint.
Low Expectations for the Markets
As we have already noted, it is much easier for the crowd to get more enthusiastic when our expectations are exceeded.  Most investors expect the worst currently and this actually bodes well for the markets.  When Bearishness exceeds Bullishness by factors like we are currently seeing, markets have performed much better than average historically.
The chart below also shows that the bottoms in bear markets and corrections, typically occur during October.  April has given us the least market bottoms over the past 50 plus years while October has given us the most by a factor of 4 to 1 for the Dow and 3 to 1 for the Nasdaq versus any other month.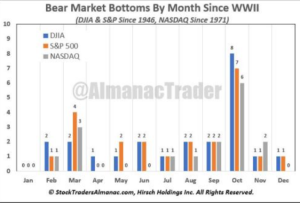 Lots of Hurdles Ahead
The level of bearishness in the markets bodes well for the future, but we still have lots to overcome.  The Federal Reserve is still raising interest rates and it will be hard for the markets to gain traction as investors are being paid to take money out of the equity markets and assume less risk.
Outside the U.S., very few economies are improving, many systemic collapses are possible and there is much uncertainty with regard to financial and geo-political tensions.
The next few months are typically the best for markets, but there is still a lot of treacherous ground to cover.  Like the rest of the world, we are seeing fixed income as more and more attractive as interest rates are now approaching 5% for "safe" treasury securities.
GO VOLS!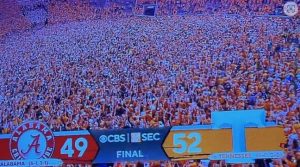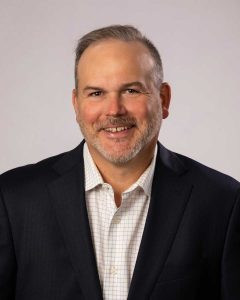 Joe Franklin, CFP®President, Wealth Advisor Franklin Wealth Management, LLC 423-870-2140www.Franklin-Wealth.com